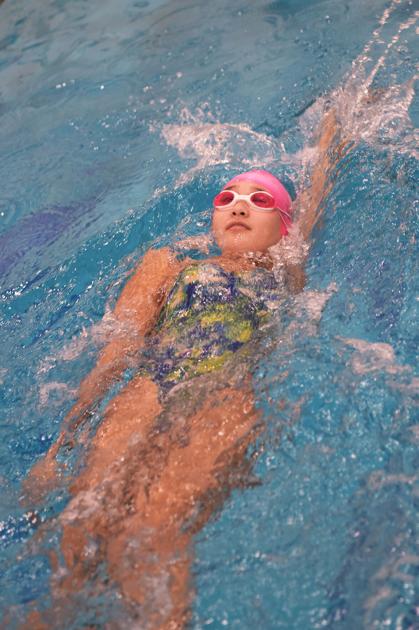 Aquino: Next Big Diver Hillie Online | Sports
She has a chance, says Becky Driscoll, diving coach at Haverhill High, to be the next big one.
Her name is Kailyn Aquino, a first year diver who just might be the next outstanding Hillie diver. She finished second at the recent MVC Diving Invitational with a solid 11 dive score of 361.85.
And there have been great divers in Driscoll's 26 years as Hillie's coach, most notable being 2004 State Champion Monica Hubbard, two-time State Champion and World Record holder. school Michaela Sliney, who dove on a scholarship to the University of Louisville, and current senior and reigning state champion Cailey Simard.
"(Aquino) has a shot," Driscoll said. "By the time she's a senior, I think she'll be a (state) candidate. Her strength is that she is ready to try anything. She is learning and improving all the time.
14-year-old Aquino (she'll be 15 on Monday!) Has already been diving for almost eight years, first at Cedardale and the last five with the solo swim team under Driscoll. At Solo, and even before, she was able to learn from Simard.
"Her mom (Kelly Simard, a former diver at Haverhill) has coached me since I was eight years old, so I've always known Cailey and we've become friends," Aquino said. "I've always tried to live up to her. My trainer (Driscoll) says I have to get to where she was in first year.
Like many divers, Aquino did gymnastics when she was younger, as well as dance, but by the age of 10 she began to focus almost entirely on diving.
"I know that (gymnastics) helped me a lot but I got fed up and thought diving was more fun," Aquino said.
At the same time, even more than Sliney and Simard, Aquino is a strong swimmer, especially in the free sprints and backstroke, and she helped the understaffed Hilles (15 in the squad) to finish a regular season of 7-3. She was a solid member of the relay with senior stalwarts Carli Quinlan and Cailey Simard, junior Jackie Story and sophomore Kenzie Hillsgrove who were generally the team's top scorers.
When asked if she would rather swim or dive, Aquino replied, "It depends on the day and what we do to train. I like both of them.
Aquino typically dives in high school, but she swims a lot as a member of the Phoenix Swim Club, which she trains with six days a week. She also always dives for Solo, which she attends several times a week.
As a combined swimmer / diver, Aquino "definitely made an impact, especially on the relays and diving," said Haverhill head swim coach Meg Feran. "We definitely see her taking on Cailey's diving role after graduating and completing some swimming events and being a big part of the relays.
"Kailyn is an incredible athlete and such a good kid. She's ready to do any event we need her to do. She might not be happy with some (especially breaststroke), but she's a team player through and through. We are so excited by the impact she has had this year and can't wait to see how much she continues to add.
Aquino admits being involved in two club teams besides swimming for the Hillies can be a bit exhausting, but, she says, "I love the sport and want to continue in college."
If that happened, it would continue the Haverhill diving tradition. In addition to Sliney in Louisville, Hubbard has dived in Northeastern and Simard will dive next year at UNH.