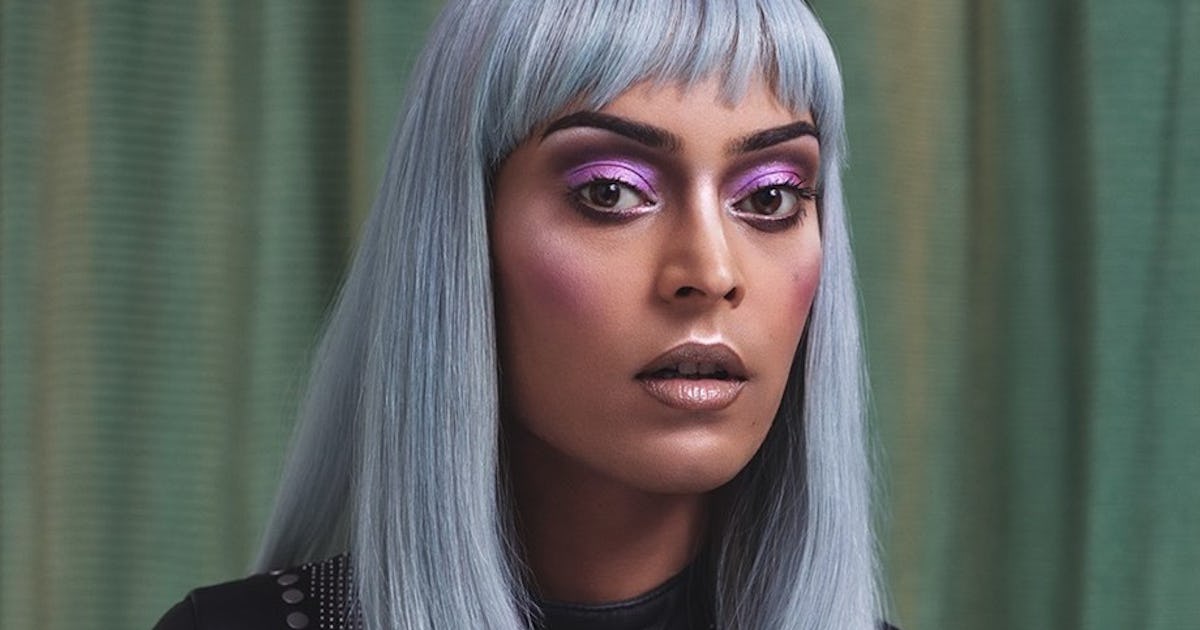 Asifa Lahore on School Diversity Week, The Importance of Inclusiveness and the Power of Drag
Ask Asifa Lahore to introduce herself and she will tell you that she ranks as "an intersectional and unique person".
"I'm an LGBT + activist and I live my life as a trans woman," she tells me via Zoom from her home in south-east London. "Previously, I lived my life as a gay man, then I was very publicly transgender during my drag career, and I live with a disability, being severely visually impaired. I am very proud of who I am and what I have accomplished so far in my 38 years on this planet.
It's her experience as a prominent member of the UK's queer activist infrastructure – constantly challenging the misrepresentation of queer, Muslim and South Asian communities across the country – and her ability to communicate that makes her the perfect ambassador for Just Like Us School Diversity Week. The annual event promotes inclusion in an educational setting, seeking to make schools safer and more welcoming to students who are part of the LGBTQ + community. "I am truly honored to participate and to be able to share my experiences with young people," Lahore tells me.
We meet (virtually) before her masterclass on June 24 to discuss the importance of reaching out, the urgency of inclusiveness, and the power of flirting.
Erkan Affan: Thank you for taking the time Asifa, I want to start by asking you about this label which has been awarded to you as the "first Muslim drag queen" in UK. How do you feel and what kind of attention do you receive with it?
Asifa Lahore: From my own experiences of clubbing as a teenager and being in the scene for over 15 years, I know Britain has had a strong queer Muslim and queer South Asian scene since the 1980s. So I am very aware of my own history and of the queens that came before me.
However, when I first went out publicly, many of these performers weren't known to the general public and stepped out of the spotlight for fear of the treatment they would receive. And so being labeled as the first Muslim drag queen "to come out" probably comes from my decision to put my head above the parapet, so to speak.
I remember when I started playing around 2011, I was cataloged. People wouldn't understand my drag because they couldn't relate to my jokes, or they found it controversial that there could be a Muslim drag queen working in the circuits. But I never thought about stopping, so I became an activist without apologizing – but also reluctantly, raising my voice and fighting for my recognition as a Muslim drag queen. Now, looking at social media in 2021, I'm happy to see a plethora of brown, Muslim and queer art and activism globally.
EA: Tell me a bit about how you got involved in School Diversity Week and what impact do you hope it will have?
AL: I went to school for the article 28 era in the late 1990s. I suffered a lot of bullying and, because of Article 28, teachers could not intervene for fear of "promoting homosexuality". So I endured the trauma of shame, anger and loneliness until I was able to cope with it through therapy and healthy relationships in my twenties.
All of this meant that when I was approached about School Diversity Week, I jumped at the chance to tell my story. Through my identities as Muslim, British, Pakistani, South Asian, queer, transgender and disabled, I try to convey to people that we all have different angles in our experiences and that these are acceptable. It is getting better and school is not a reflection of what your whole life will be like.
EA: What do you think are the best ways for young people to connect with others like them and to get out of the difficulties they face in school?
AL: There are a lot of services available now, especially with the Internet. There is Imaan, NAZ Project, Hidaya, there is an LGBT Sikh charity called Sarbat, I know that there is LGBT Jewish Services And much more. You are not alone, because someone has already experienced what you are going through and you don't have to do it yourself. It just takes courage. The first step is the most difficult. There are so many other relationships to be had, families to be created.
EA: You mentioned courage, and I want to know how your work gave you the courage that you have today?
AL: Well, drag has really empowered me in two very different ways. In my teenage years, I was afraid to pursue a career in the performing arts for fear of being exposed. Drag was an opportunity for me to perform again, it became the ultimate expression. I was playing with the utmost glamor, femininity, and all the people who had demeaned me during my teenage years and rejected me for my homosexuality and / or my brown color no longer mattered. Second, when I started to put on makeup and try on what is considered "women's clothing," something inside me clicked. The dresses looked like a hand putting on a glove. The flirting led to my reconciliation with my trans identity, allowing me to start all over again. It gave me my life and I wouldn't change it. For me, it's a full-fledged self-expression with no excuses.