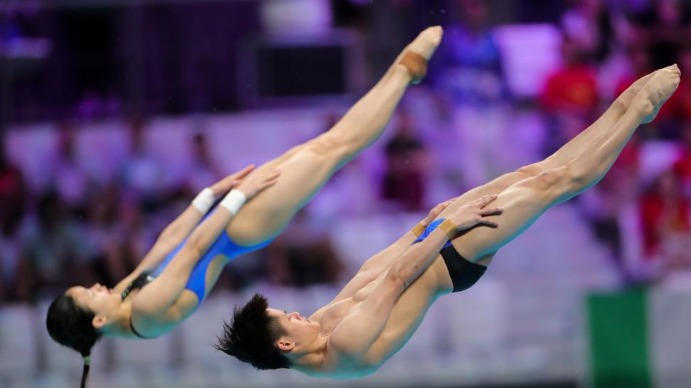 Chinese divers win three more golds and reach centenary at FINA World Championships
BUDAPEST — On a remarkable day for the Chinese diving team, the dominating power in the sport reached a milestone at the FINA World Aquatics Championships by winning its 100th diving gold medal at the Duna Arena here .
Just five hours later, the tally was improved to 102 as the unstoppable Chinese divers extended their record of perfect tournament gold medals with two more convincing victories on the springboard.
In Wednesday's first final, teenage diving duo Quan Hongchan and Bai Yuming dominated the mixed team event at 3m and 10m to win the 100th diving gold for China in the history of the tournament, also the fifth in as many events in this year's edition.
"I'm so happy to win the gold medal, especially since it was the 100th for the Chinese team," said world championship debutant Bai, who contributed three dives, including two from the platform. from 10m and one from the 3m springboard.
"The mixed team event is a bit similar to the singles event, but I think it was more difficult. I did better on the springboard, but for the platform I was too nervous and that just wasn't that good," the 15-year-old added.
The duo sat in first place from first to last dive, finishing with 391.40 points to secure the gold medal. French divers Jade Gillet and Alexis Jandard took silver with 358.50 and British pair Andrea Spendolini Sirieix and James Heatly won bronze with 357.60.
Olympic gold medalist Quan, also 15, who replaced fellow Olympic champion Zhang Jiaqi to compete in the event, won her second medal, also her first gold, at the world championships.
"I was happy with my performance today, especially on the platform because it was my major event," said Quan, who was edged out by fellow Chinese Chen Yuxi in the women's platform. 10m Monday.
"I was informed to replace my teammate to participate in the event yesterday, I was surprised but also very happy because I felt it was a chance to win one more medal," added Quan.