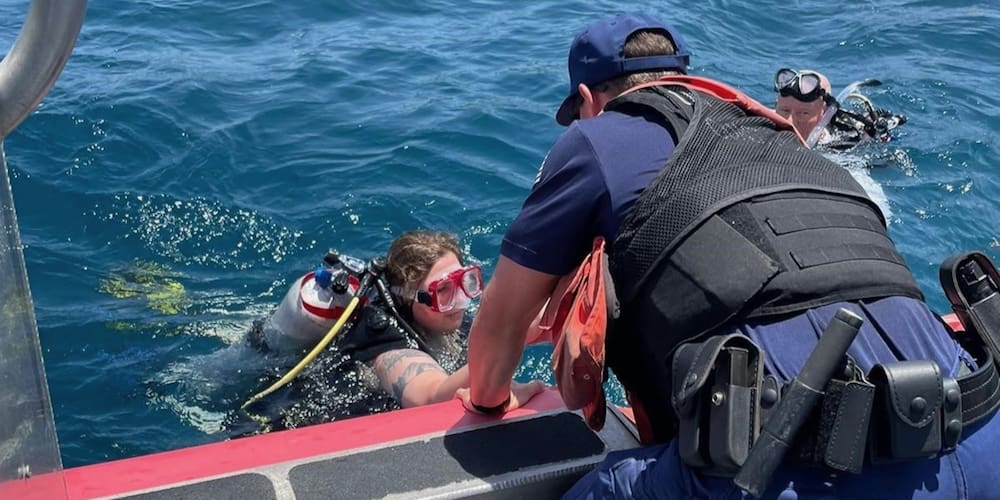 Coast Guard rescues two divers off Coki Point
The US Coast Guard rescued two distressed divers Thursday afternoon from the middle of the channel just off Coki Point in St. Thomas.
According to a press release from the Puerto Rican Coast Guard, the rescued divers are a 57-year-old man and a 21-year-old woman, apparently tourists, who were spotted by coastguard crew around 1 p.m. 'a routine patrol.
The crew of the Coast Guard Naval Forces Detachment in St. Thomas, operating aboard a 33-foot special-purpose boat, turned on their blue lights during their approach to deter oncoming boats from s approach divers.
Once docked, the crew pulled the two divers safely aboard and assessed that there was no medical emergency.
"The crew were able to spot two divers in distress without a dive flag and were able to get them out of the water quickly to avoid sea traffic in the middle of the channel," said Petty Officer 2nd Class Andrew Koelle, Marine Forces Detachment . coxswain of Saint Thomas for the case. "Both divers were physically exhausted and probably wouldn't have been able to swim to shore. This case serves as a reminder to make sure you have the proper safety gear, especially a dive flag or buoy marker to make sure boaters can see there are divers in the water and keep a safe distance.
The Coast Guard crew returned the two divers safely to Coki Beach.