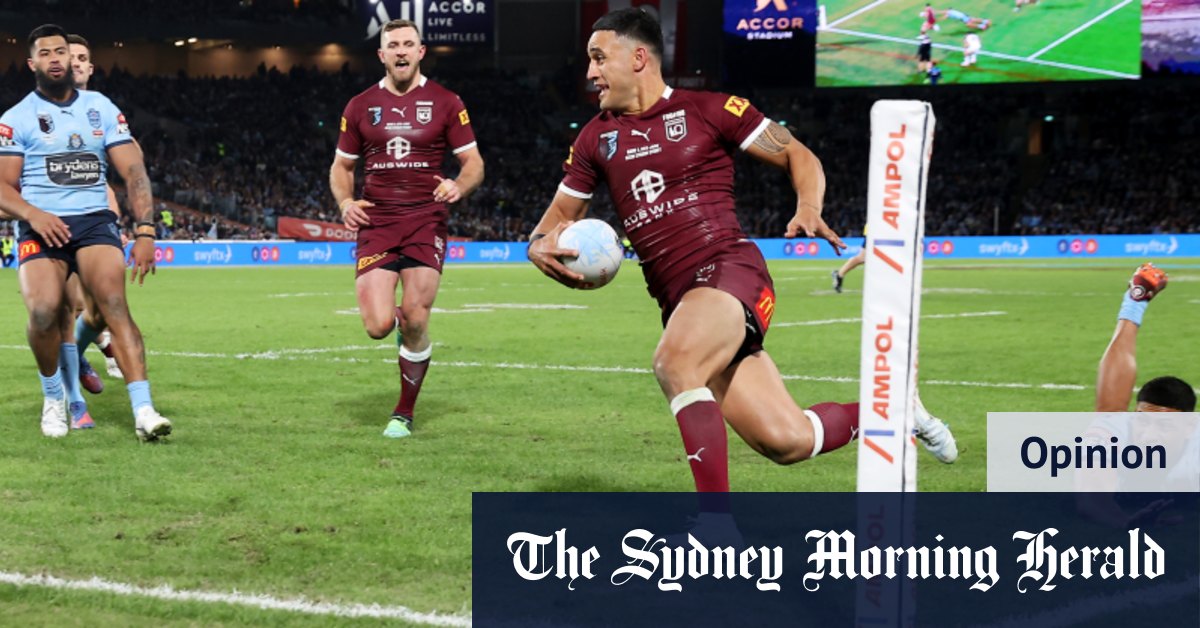 Faster, tougher and more athletic, Origin now has it all.
In its 43rd year, State of Origin finally has nothing to offer other than the dazzling quality of rugby league it can put on. Oversized musculature has replaced oversized personalities.
The speed exceeded the stench. Players, who these days let their haircuts do the talking, are too tired of chasing the hyperkinetic version of today's game to have the energy to punch each other. No breath, no biff.
Which just leaves football. Imagine that. In middle age, Origin got a boost. A clean life at the Olympic Stadium on Wednesday night produced a dividend of intensity, errors and the finest stress fractures through which the brilliance could shine.
When the blue wall cracked, it shattered and toppled Queensland, winning a game in Sydney for the first time since 2017. Knocked down on their own turf a year ago, Queensland have sunk this far in the south that he would find it comfortable in the winter, and took the lead in the three-game series.
For the first time since 2019, a crowd of 80,512 was able to attend Homebush, and a sense of pent-up excitement was evident on both sides of the fence. With the winds blowing in from Antarctica, there were blue fingers and toes to go with the prevailing dress code.
Queensland and NSW both fought to shreds in the opening stanza. The slamming defense produced drop balls, forward passes and a scrappy attack. Along with a few inaccurate kicks, it at least had the benefit of breaking the predestined patterns that the coaches had drawn and accentuating the swirling-eye tendencies of the game to the point, at times, of sheer panic.
Speaking of coaches, Queensland's Billy Slater and his Blues counterpart Brad Fittler were blasted to commentate on the match as it unfolded. Moonlighting TV Commentators as Origin trains moonlighting as TV commentators, both were told to return to their daily jobs and were too cunning to say anything other than the obvious bleeding. It was curiously contemporary. Try this one on Wayne Bennett or Craig Bellamy, Channel Nine.
Some individual moments were provided by both teams' outside backs, who bravely charged across the opposing front line to buy the toughest yards. Brian To'o, Xavier Coates (before he sprained his ankle), Selwyn Cobbo and Daniel Tupou ensured that no one could continue to describe the wingers as people who hang out with footballers.