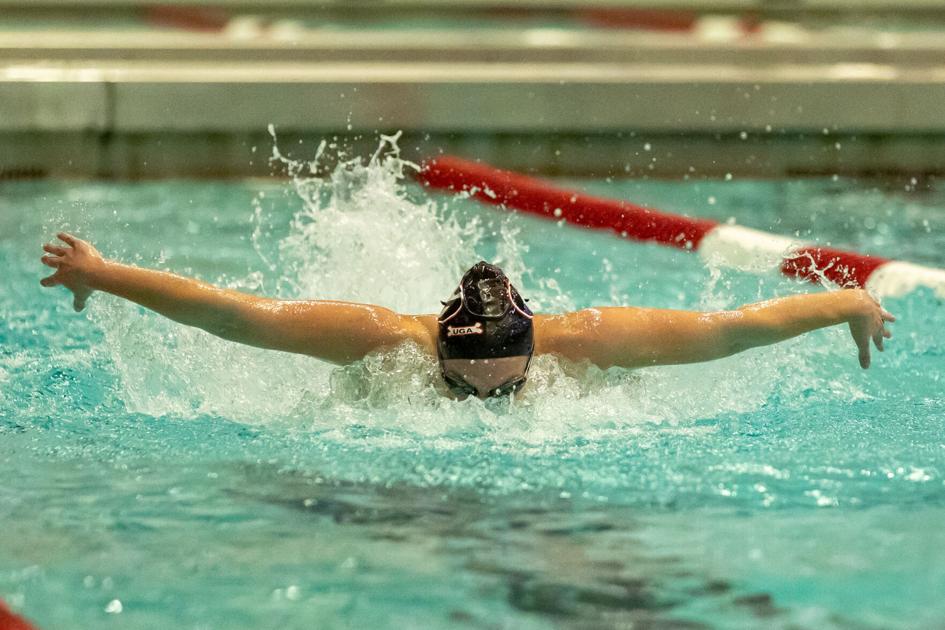 Georgia swims and dives in South Carolina | Georgia Sports
The Georgia swim and dive team completed the Carolina sweep on Saturday afternoon at the Gabrielsen Natatorium.
After the men's and women's teams defeated North Carolina on Friday night, they quickly turned and beat South Carolina on Saturday, 167-125 on the women's and 175-114 on the men's.
"I was pretty happy with our kids today," said Georgia swim and diving head coach Jack Baurle. "We kind of challenged them, just to have a really good consecutive day, and they did a good job, and I was really pleasantly surprised for today."
Of the 32 events, Georgia had 23 first places, 13 first and second places and four 1, 2, 3 sweeps.
The Bulldogs shone in the distance events. Abby McCullogh and Jake Magahey both won the 1,000-yard freestyle, and Magahey exceeded his time against North Carolina, gaining 0.19 seconds.
The women scored 1, 2, 3 in the 500 free. In a close battle throughout, Duné Coetzee narrowly edged McCullogh, winning with a time of 4: 47.21. Mia Abruzzo was third in the race for the Bulldogs.
Magahey and Tommylee Camblong, both top two in the 1,000-yard freestyle, again took the top two spots in the 500 freestyle.
"Our distance program is one of the main things that attracted me to this program in the first place," said McCullogh. "I think we really know how to get a lot of good quality meters without it being boring, and so I think we just have a lot of kids who can swim a long, strong race."
The Georgia women and men swept the 200 freestyle. Sloane Reinstein and Bradley Dunham won their races with times of 1: 48.46 and 1: 37.54, respectively.
In total, Georgia had nine different swimmers on the women's side who scored victories. Among others, Eboni McCarty won the 100 backstroke with a time of 54.43, Zoie Hartman won the 100 breaststroke with a time of 1: 00.49 and Abruzzo won the 200 butterfly with a time of 2: 00.15 .
Gabi Fa'Amausili won the 50 freestyle and 100 freestyle in 22.78 and 50.01 respectively, Danielle Dellatorre clocked 2: 14.60 for the 200 breaststroke and Callie Dickinson won the 100 butterfly with a time of 55.15.
On the men's side, Andrew Abruzzo won the 200 butterfly in 1: 45.72, Harrison Wayner won the 100 breaststroke in 55.66 and Luca Urlando, after a strong performance in the butterfly events against North Carolina, won. the 100 back today with a 46.52.
"I think just my sub [kicking]"said Urlando." It really comes together and that's how I shift my speed from my subs to my swim. "
Dillon Downing used a time of 20.32 to win the 50 freestyle, while Zac Hils won the 100 freestyle with a time of 44.36. Ian Grum clocked a time of 1: 44.44 for the 200 backstroke victory, and Connor Haigh won the 200 breaststroke with a time of 2: 02.50, while Wesley Ng won the 100 butterfly after recording a 48.05.
All points after the 100 butterfly have been awarded to South Carolina.
Meghan Wenzel was the top performer for Georgia in the women's 3-meter diving, with a second place of 251.70. Tally Brown and Ellie Crump came right after her with scores of 247.50 and 247.43.
Nolan Lewis was third at 293.93 in the men's 1-meter diving. Rhett Hopkins and Zach Allen also scored points for the Bulldogs.
All points for the women's 1-meter dive and the men's 3-meter dive were awarded to South Carolina.
Georgia are hoping to build on this weekend's momentum through to next weekend, as they prepare for a big clash against Florida's No.3 men's team and No.9 women's team. in Gainesville, Fla., Oct.29 at 10 a.m.