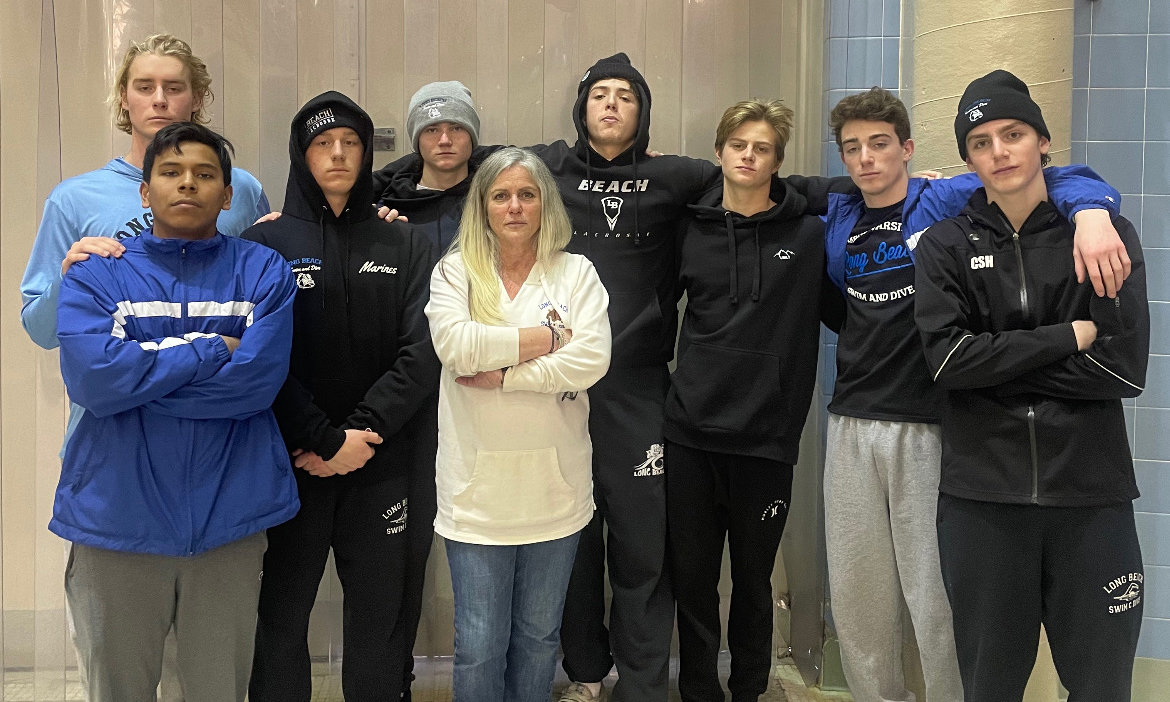 Long Beach pops up in county meet | Herald Community Newspapers
Jake Skarren, Frankie Moriarty and 50-yard freestyle champion Joe Cash each tallied 31 points to lead Long Beach to a third-place finish at the Nassau County Boys' Swimming/Diving Championships held from 9 to February 12 at the aquatic center.
The Marines, coming off a 5-2-1 regular season, were expected on paper to finish no higher than fifth, coach Lynn Volosevich said. But they trailed just a few points off second place and will send eight representatives to meet New York State on March 4-5 at Ithaca College.
"I'm totally delighted that we took third place in the county," Volosevich said. "It's even more impressive when you consider that we only have a few club swimmers and graduated a few heavy hitters from last season."
Long Beach set the tone for the county meet with what Volosevich described as an unexpected state qualifying effort in the 200 Medley Relay. Senior Freddy Ramon, the class salutatorian bound for Yale University, started with backstroke, followed by junior Finn Morris (breaststroke), senior Ty Thornton (butterfly) and senior Nikolai Alfasi (freestyle). , I saw that they were all doing their best times and it made me realize that we were going to reach the qualifying time," she said. "They all swam very well and I really think that kept us going throughout the competition."
Alfasi was also part of the 200 Freestyle Relay which finished second in the county and heads north with the fourth fastest time in public schools. Skarren, a junior, preceded Alfasi in the front row and the back half included Moriarty, a senior, and Cash, a sophomore. The foursome finished in 1 minute 28.34 seconds.
Skarren, a tri-sport athlete (football and lacrosse), ranks in the state's Top 20 in the 50 freestyle. He won the county title with a time of 21.75. "He's a very driven student-athlete who hates losing," Volosevich said. "He explodes from the starting block and is very difficult to catch."
Cash was All-County in the 200 m (third place) and 500 m freestyle, and Moriarty earned All-County honors in the 100 m freestyle.
Senior diver Chris Buonocore, who broke two long-standing program records this winter, will also head to the state meet. He is Long Beach's new all-time leader in 6 and 11 dives, surpassing the 22-year marks held by Keith Griffin. "Chris has an incredible work ethic," Volosevich said of Buonocore, who finished third in Nassau with 487.2 points.