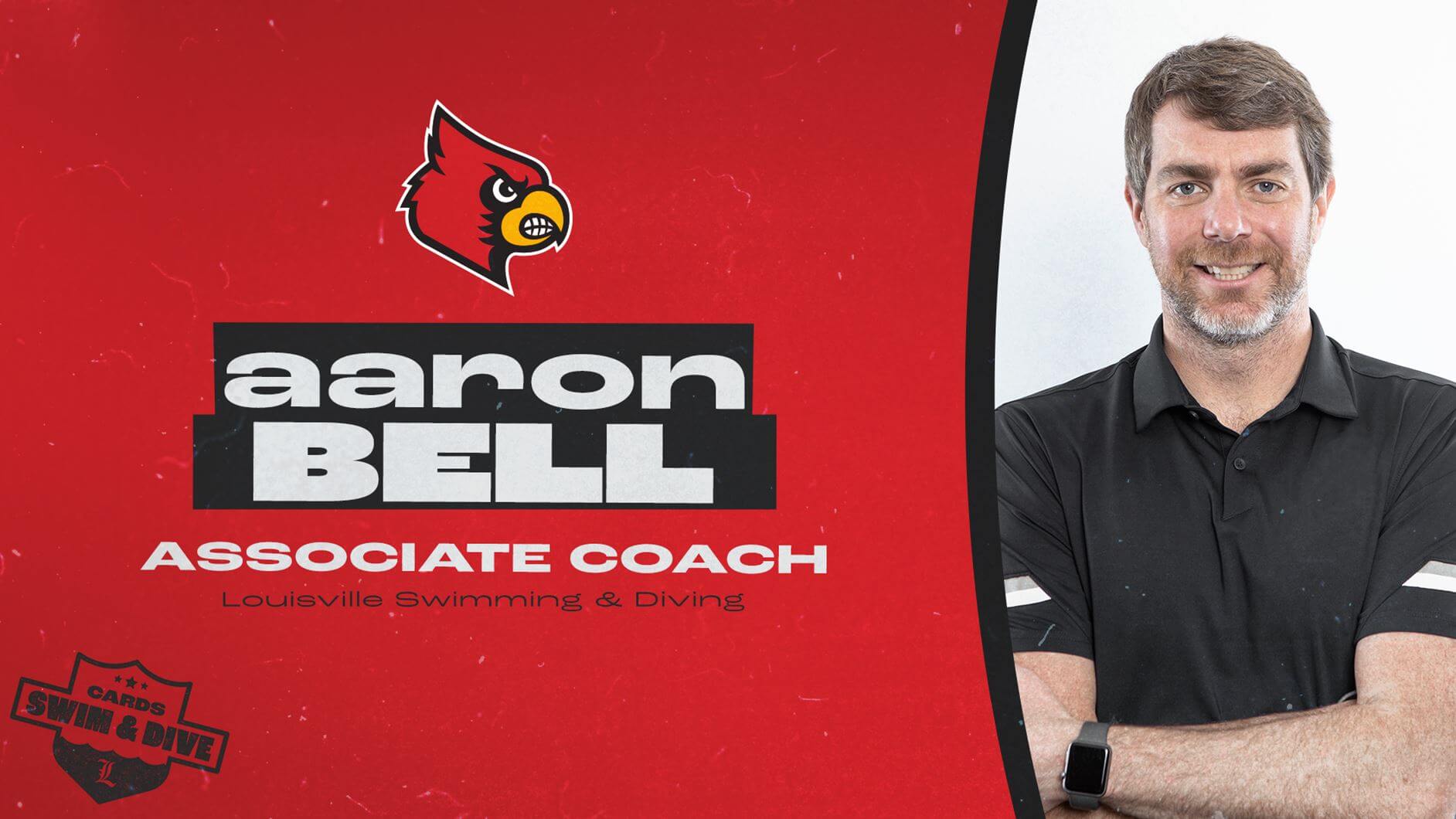 Louisville hires Aaron Bell as associate swimming and diving coach
Louisville hires Aaron Bell as associate coach
On Tuesday, the University of Louisville announced the hiring of Aaron Bell as an associate coach.
Bell comes to Louisville from the University of Notre Dame swimming and diving program where he served as associate head coach from 2016-21.
"I have known Aaron for some time and have always admired his recruiting efforts and coaching," UofL head coach Arthur Albiero said in a statement from the university. "His proven track record as the ultimate distance coach is well documented in his long coaching career. I am delighted to welcome Aaron and his family to our program.
During his time with the Irish, Bell's recruiting efforts lifted Notre Dame up the national recruiting class rankings. His work with the Irish men contributed to a 29-12 doubles record during his tenure, also helping the women to a 40-6 doubles record. Thirty-four Notre Dame swimmers achieved All-American status during Bell's tenure, and several more received honorable mention.
Bell served as head coach to several notable distance swimmers, including All-American Zach Yeadon, a two-time ACC champion who represented Team USA at the World University Games and was a member of the USA national team, program record holder in the 500, 1000 and 1650 freestyles. ACC Freshman of the Year Jack Hoagland was an NCAA All-American in 2021 and also the ACC swimmer of the meet in 2021, where he won three events at the 2021 ACC Championships (500 free, 400 IM and 1650 free).
"Words cannot express my gratitude for Josh Heird and Arthur Albiero who gave me this opportunity," Bell said. "My family and I are beyond thrilled to join one of the most recognizable programs in the NCAA and on the world stage. Louisville is a global destination with world-class coaches and has the most comprehensive athletic department I've ever had. I've seen. The future is brighter than ever and I can't wait to get started. Let's go!"
Bell was also the head coach of Aaron Schultzwho was a four-year-old NCAA qualifier and school record holder in the 200 butterfly. Sadler McKeen was a two-year NCAA qualifier and individual 200 free qualifier under Bell and Pierre Lindsay established school grades in the 500, 1000, and 1650 free under his tutelage.
Prior to his stint with the Irish, Bell served as assistant coach and scouting coordinator for Virginia Tech from 2011-2014 and associate head coach and scouting coordinator from 2014-2016. The Hokies enjoyed success during Bell's five years. with the program, as the men's team has finished in the top four at the ACC Championships five times, including winning an ACC Tag Team title in 2014 and a pair of runners-up in 2012 and 2013.
Meanwhile, the Hokie women's team has placed in the top five every year and posted a second-place finish in 2013. For their efforts, the Virginia Tech coaching staff has won two coaching staff awards. ACC Men's of the Year in 2012 and 2014. At the NCAA Championships, both teams scored points each year, with the men earning four top-20 finishes and the women claiming four top-25 finishes.
At Virginia Tech, 72 student-athletes qualified for NCAA championships in addition to 24 qualified for the Olympic Trials with Bell on staff. Moreover, he led Katarina Filova (Slovakia) who qualified for the London Olympics in 2012, while Fiona Donnelly (Scotland) who participated in the 2014 Commonwealth Games and Michal Szuba (Poland) who swam at the 2013 World University Games and the 2015 World Championships.
A total of 79 school records and four ACC grades dropped while Bell coached at Blacksburg. On the scouting track, he helped get four consecutive classes into the top 20. In the classroom, the Hokies had 35 ACC varsity selections, 40 ACC and three ACC Scholar-Athletes of the Year (Brandon Fiala '16, Heather Savage '13 and Logan Shinholser '12).
Prior to heading to Blacksburg, Bell served as an assistant swimming coach and recruiting coordinator at the University at Buffalo from 2007 to 2010 before earning a promotion to head assistant coach and recruiting coordinator from 2010 to 2011. During his tenure with the Bulls, the men's team earned four top-three finishes — including a tag team championship in 2011 — at the Mid-American Conference Championships. For their efforts, the Bulls coaching staff has won MAC Coach of the Year honors three times (2009-11).
Other past coaching experiences include serving as a graduate assistant (2004-06) and volunteer assistant (2007) at Ohio and assistant head coach at the University of Miami. (2006).
Bell had a stellar career at Clarion University in Clarion, Pennsylvania, earning 20 All-America scrolls at the Division II institution. He qualified as a senior national in 2003 and 2004 and left school as the program's record holder in the 100 and 200 backstroke. In 1999, Bell won the prestigious Kelly Cup Award, which is given to the amateur athlete of the year in Pennsylvania. He is a member of USA Swimming and the College Swimming Coaches Association of America (CSCAA).
Bell graduated with a Bachelor of Science in Liberal Studies from Clarion in May 2004. He then completed the prestigious Coaching Education Program at the Ohio Department of Recreation and Sport Sciences in June 2007.
Bell and his wife, Courtney have two sons, Brody and Landon, and a daughter, Lucy.
The above is courtesy of a Louisville Athletics press release.