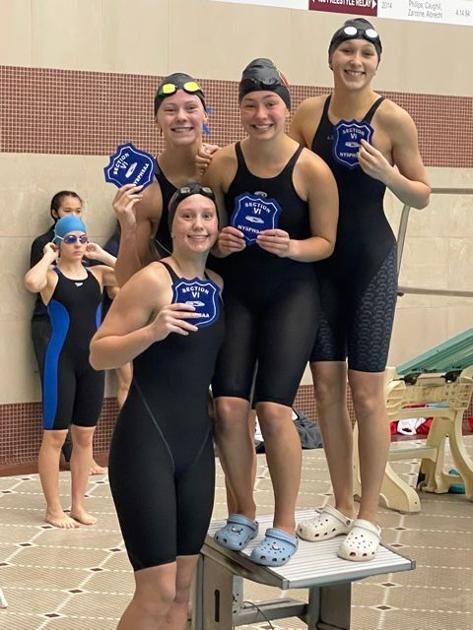 OHS Breaks Pool Records, Reaches State Relay Qualification | Sports
CHEEKTOWAGA – The Olean High Women's Swim and Diving Team set four pool records (two relays and two individual events) at Maryvale High School and clinched a third place finish in the Section Championship final 6, class B, Friday.
With 240 points, the Huskies finished behind Class B champion Amherst (343) and runner-up East Aurora (321).
Alexis Trietley won two individual races, the 50 yard freestyle and the 100 freestyle. Both were pool records, clocking: 23.58 in 50 and: 51.43 in 100. She also swam in two winning relays which also set pool records.
Megan Jackson, Sara Thomas, Trietley and Tyyetta Herman's Olean 200 freestyle relay met New York State's qualifying time with a pool record of 1: 41.30.
Jackson, Anna Slavinski, Trietley and Herman's 400 freestyle relay set the pool record at 3: 44.82.
Olean's divers Hannah Vanderhoef (387.25 points) and Makenna O'Connell (351.80) finished second and third respectively.
Jackson got two second places, the 50 freestyle (: 24.76) and the 100 freestyle (: 53.80).
Herman was ninth (: 59.93) in the 100 freestyle and 12th in the 50 freestyle (: 26.95). Sara Thomas was 12th (1: 01.06) in the 100 freestyle.
In the 200 QN relay, Willow Chase, Thomas, Slavinski and Megan Pagett finished eighth (2: 11.18).
Libby Price was 15th in the 100 backstroke (1: 14.48) and Slavinski was 16th in the 100 butterfly (1: 12.85).