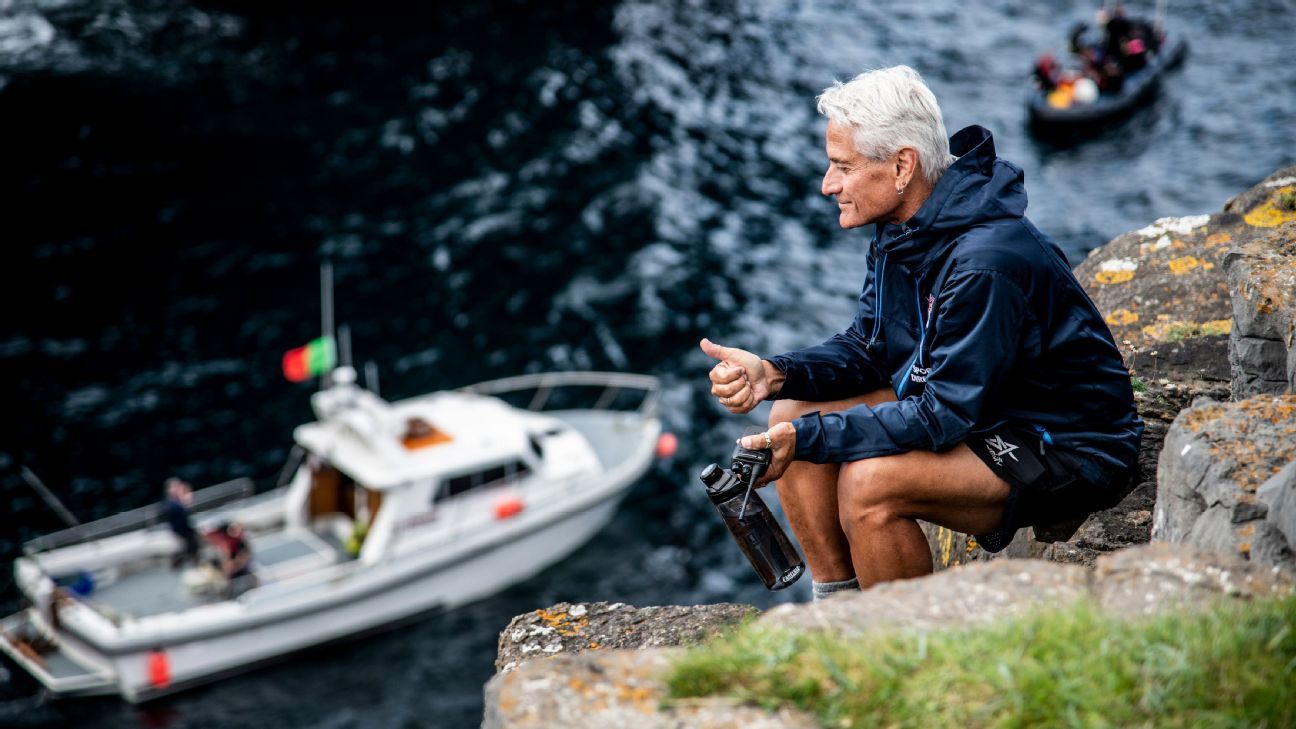 Olympic diver Greg Louganis talks about his coming out
Olympic diving legend Greg Louganis [he/him], 61, won four gold medals at consecutive Olympics in 1984 and 1988. He publicly revealed himself as homosexual at the Gay Games in 1994, but he was from a young age.
How did the process of "coming out on my own" go for you?
When you're really young you don't really know sex or sexuality or anything like that, I just felt different. I think I knew my gender identity soon enough and then I fought against it because I was called "sissy boy" and all these other things. It was really hard when it came to self-acceptance [went], because we all want to integrate. It was [when I was] quite young – probably pre-teens. I just knew I was different.
Did you have a specific reason for revealing yourself to the media / the public, rather than keeping your privacy private?
It's kind of an interesting journey until I come out [goes] because I was out in my early twenties. I was my friends and family, but not the media. Also, the folks at USA Diving – they knew my gender identity, because the dive team is a very small team and we travel overseas. I went to the Gay Games in 1994, welcoming the athletes and saying, "It's great to be out there and proud. It was my public coming out. The reason I came out at that point was because I knew I was coming out with my book, "Breaking the Surface", in 1995, so I knew I had to start to feel comfortable talking about my. gender identity with interviews. Because I knew that in 1995 a lot was coming out of the book, because I was dating with my HIV status, as well as an abusive relationship, depression and my learning difference. It was a stepping stone to a bigger picture of being able to talk about who I was as a whole person.
READ: 17 LGBTQ + athletes share their coming out journeys
Has coming out had an impact on your career and your opportunities?
I'm sure it interfered with the endorsements. I was told that because of my gender identity [being] questioned, that's why I haven't had a lot of referrals and it definitely affected me professionally. Just a few years ago athletes were approved because of their gender identity and because of the diversity and all that mentality, but I was old news, so I was ignored, but I think it is wonderful. I had to do what I had to do not only for myself, but also for those other people behind me to benefit. I am so happy that times have changed and that they have these opportunities.
How has your sport changed in relation to the LGBTQ + community during your career?
During my career it was a challenge, and so it is after I retire from my sport. I think a lot of the powers that be in my federation were happy to see me move on and hopefully have a new person, a new face, in the limelight. It has really evolved. Now there is a whole movement of diversity within the sport to be able to speak openly about gender identity or any harassment or whatever that is going on, so there is a lot more awareness and a lot more sensitivity.
What's the most rewarding, and perhaps unexpected, part of dating?
The most unexpected – the thing that really struck me – was when I was at the London 2012 Olympics and I had an interview with Piers Morgan and he asked me about my HIV and j was just very laid back. I said, 'Yeah, I take my meds in the morning, at night, and mind the business of life and that's part of my life,' so I spoke very casually about it. Then a few days later – or maybe even the next day – [Australia Olympian] Ji Wallace spoke about his gender identity and his HIV status, saying that I was his inspiration. This is what surprises me. This is what I'm a little blown away with, because I think no one is really looking at me. It's amazing the impact we all really have, being open and honest about who we are and sharing that. It allows so many people not to hide in the shadows, to be hugged, because, really, I think the deadliest thing is to isolate yourself. Letting go of secrets makes you feel seen, heard and embraced.
What would you advise for people struggling with their identity?
There will be people who will criticize, but there is a good chance that if people are true friends and really like you, then they will hug you and support you. To have this support is so meaningful and so powerful. Do it in such an honest way; this is what I think people gravitate towards for authenticity. Not only does it empower you, but it strengthens relationships. It strengthens the bonds we have with each other that we can share in an authentic way.
During the debate that comes to mind, what were your worst and best scenarios? And has either happened?
My thought before dating my mom was the scariest thing – losing the love and support of your parents. My thought before dating my mom was, "Oh my God, if my parents knew I was gay then the earth is going to open up and swallow me whole." Did this happen? No. I was a little disappointed that my mom wasn't upset more or something – you know, having some sort of reaction instead of "what's for dinner?"
It was a little more scary when I came out in 1995, before my book, on my HIV status. Being an HIV positive gay man, at that time there was still a lot of stigma surrounding HIV. Much of the attitude in the country and around the world was, "It kills the right people – gay people, injecting drug users and prostitutes." And so there was a lot of judgment. Because HIV is sexually transmitted there was a lot of shame around it and a lot of self-loathing and shame and it's a really horrible place. I think we are getting to understand the virus better. It's manageable – it's no longer a death sentence, but there is still some stigma, so if you educate yourself, you empower yourself.
Have you ever felt pressure, either internally or from speculative fans, to be a role model or ambassador for the queer community? And is that something that you are embracing now?
It was something that worried me a bit when I announced my HIV status – that I would be the HIV poster. It wasn't something I wanted, but in a way I gave it a face and made me realize it. I thought it was a good thing. It wasn't something I wanted – I didn't want that kind of attention – but I learned that getting in there can be really powerful and influential. I have nothing special and I am no better or worse than anyone else. As long as I can represent myself, this is the best I can do. The only thing when I work with children – I encourage them to learn to be their own heroes, because we all have a hero in us to be the best of ourselves. If we keep pushing this forward, then we will have lived a life we ​​can be proud of.