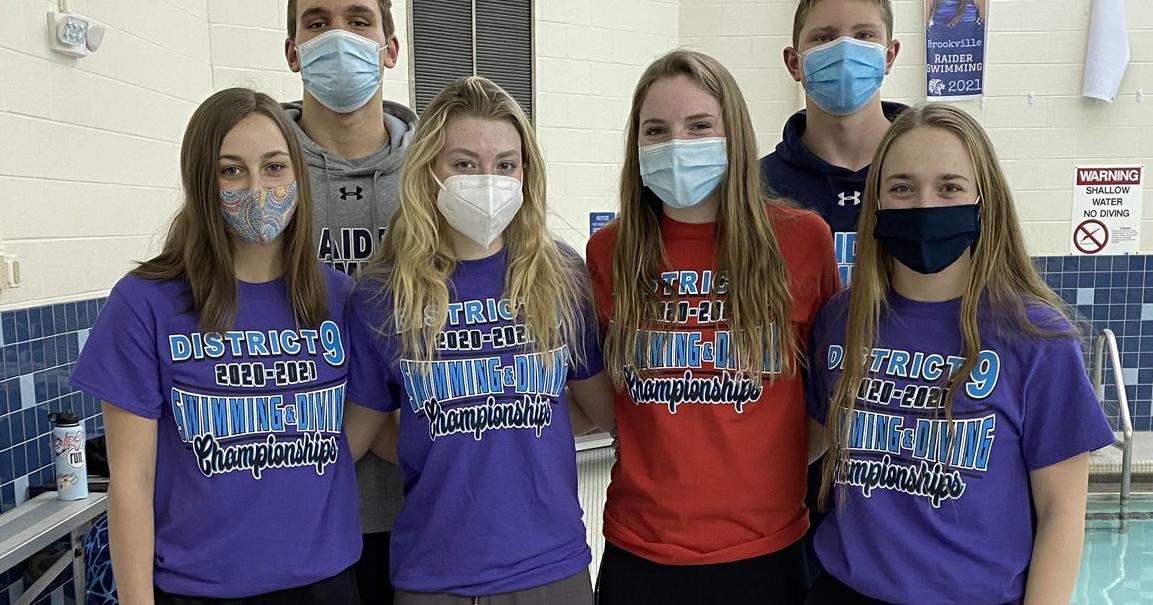 Pool enthusiasm: Brookville gears up for the big year | Sports
BROOKVILLE – Five returning state qualifiers, a combined roster of 31 swimmers with an added element of a cooperation with Clarion and a continued infusion of young talent, it's a promising season ahead for the swim and team. Brookville Area High School plunge.
This is a 12-man roster for the Raiders, who return state qualifiers in senior Calvin Doolittle and North Clarion sophomore Patrick Young while on the Lady Raiders 19-girl roster. , this is a trio of state qualifiers returning from the 200-yard medley and freestyle relay with senior Sadie Shofestall, junior Madeline Golier and sophomore Ella Fiscus.
"I've been saying this for years, but we're still reaping the benefits of the kids that come from the Brookville YMCA Barracuda swim program," said head coach Ray Doolittle. "Each of these kids, and many other team members, could have incredible success at the district level in absolutely any event. Sadie is very focused on the 50 and 100 freestyle this year, Ella is a good butterfly swimmer, Maddy could be anywhere and the same for Calvin. Patrick focused on freestyle racing.
Both teams open the season Friday at home against Oil City from 6.30 p.m.
Here's a look at the two teams:
The Raiders were 4-2 in the doubles and were third in districts behind Clearfield and DuBois as Doolittle and Young won the 100 butterfly and 100 free titles respectively to clinch their tickets to the States.
Doolittle, who broke the team's record in the 42-year-old 200 freestyle in a second place finish in the district, and Young were the state's first pool qualifier in seven years. Young was also second in the 50 freestyle.
These two will join senior Bay Harper and junior Brody Barto broke the school record in the 200 freestyle and finished second in the districts as they did in the 200 QN relay, a race they did. also strive to break the team's record table.
"These four will be our main stints, but these guys are hungry for more records and they got a taste of it last year," said Doolittle. "The medley relay is probably at the top of their list, but there could be other records in sight as well."
Harper nearly won the 100 breaststroke but was beaten by 0.04 seconds. He will be back looking to improve this ranking as well as participate in the 200 IM. Barto was fourth in the 100 backstroke and 500 freestyle districts, but could end up competing in any of the freestyle races.
Senior Shawn Foster and juniors Christian Ganoe and Hunter Rupp also scored points in the districts. Rupp was seventh in the 50 freestyle and 100 breaststroke, Ganoe ninth in the 50 and 100 freestyle, and Foster seventh in the 100 butterfly and eighth in the backstroke.
From there, Doolittle relies on the contributions of his youngsters – sophomore Alec Geer and freshmen Henry May, Brady Means and Holden Shaffer.
"We're still sorting out some of these guys and everyone has good potential in the freestyle," Doolittle said. "Alec and Henry have come up through the YMCA ranks and will do well in breaststroke. We're trying to get Brady and Holden ready for the freestyle and backstroke and we can fill in some traditional holes that we've had in the 200 freestyle and 100 backstroke, so being able to secure those points will be a big deal. .
Matus, a junior, is part of the added cooperative setup of Clarion.
"We're quickly finding out that we can put it pretty much anywhere," Doolittle said. "He really shows a certain versatility.
Just adding four swimmers to last year's eight-to-twelve roster makes a big difference to the competition score.
"This year for both teams there is some excitement to see what we can do as a team, not just as individuals here and there throughout the competition. "
The Lady Raiders have also added a few bodies to last year's roster total and it will be the same as there is some quality among the 19s in the pool.
The Shofestall, Golier and Fiscus State qualifiers are a good place to start as they helped both the 200 IM and 200 freestyle relays get to the States.
Golier and Shofestall were second and fourth respectively in the 200 IM while Golier was second in the 100 backstroke and Shofestall second in the 100 freestyle. Fiscus added a second place in the 100 butterfly and a fourth in the 50 free.
Senior Emma Afton also scored plenty of points, finishing third in the 100 butterfly and fifth in the 200 freestyle while swimming one leg in the 400 freestyle relay with fourth place Grace Park and Kendra Himes, and senior Julia Bailey.
Bailey was fifth in the 50 freestyle and ninth in the 100 freestyle. Himes added a seventh and 10th in the 50 freestyle and 100 breaststroke while Park was sixth in the 200 IM and 100 butterfly.
Senior Chloe Smith will be a key distance swimmer after placing fifth in the 500 freestyle and eighth in the 200 freestyle. Junior Taryn Hoffman was sixth in the 100 breaststroke and 10th in the 50 freestyle while sophomore Coryna Thornton was fifth in the 100 breaststroke and 10th in the 100 butterfly.
"What I've really enjoyed so far this year is the fact that this team is working harder than ever for this point in the season, but they do it with a smile on their face. They will finish a set really. difficult and laugh and joke as they catch their breath, then be totally ready for the next difficult set, "said Doolittle." Hard work, camaraderie, fun and enthusiasm are a great combination to have in any I've told Emma a few times this year that she's on fire and so determined to do well in butterfly and it shows in every set of every practice.
"Chloe will definitely be strong in the freestyle events and the distance relays. Grace works very hard at Butterfly and IM. Kendra will do well on backstroke and freestyle. Julia's strength is freestyle and relays. Taryn and Coryna enjoy both breaststroke and freestyle will do well in these events. "
These are just the returns and Doolittle is certain he will receive a boost from his new arrivals. Second-year student Kerrigan Swartz will set highlights in the breaststroke and freestyle races while two second-year Clarion swimmers, Mya Wilshire and Mercedes Cunningham, further add to the depth of the roster.
Juniors Emma Reynolds and Audrey Barrett return to the squad after a year away from the squad and will contribute to freestyle races, sophomore Victoria Hill as well as trio of freshmen Cora Parson, Violet Harper and Erika Doolittle could contribute to just about any race in the pool.
Jill Northey attends Doolittle again.
Elders: Calvin Doolittle, Shawn Foster, Bay Harper.
Juniors: Brody Barto, Christian Ganoe, Gary Matus, Hunter Rupp.
Second year : Patrick Young, Alec Geer.
First year students: Henry May, Brady Means, Holden Shaffer
Elders: Emma Afton, Julia Bailey, Chloe Smith, Sadie Shofestall.
Juniors: Grace Park, Emma Reynolds, Taryn Hoffman, Kendra Himes, Madeline Golier, Audrey Barrett.
Second year : Mercedes Cunningham, Ella Fiscus, Victoria Hill, Kerrigan Swartz, Coryna Thornton, Mya Wilshire.
First year students: Cora Parson, Violet Harper, Erika Doolittle.
9 p.m. at the Marion Center, 5 p.m.
15-at Clearfield Invitational, TBD
4-District 9 Championships, Clearfield, TBD
14-PIAA Championships, Bucknell U., TBD
Meetings start at 6 p.m. unless otherwise specified