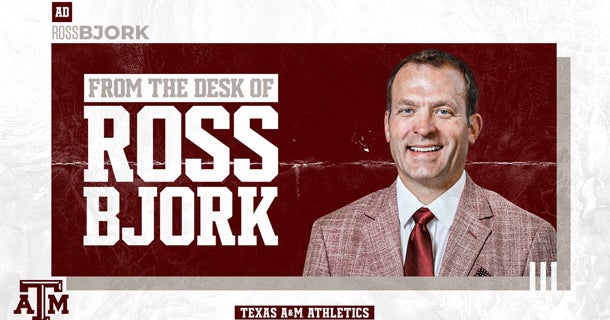 Review of the 2021-22 school year
Director of Texas A&M Athletics Ross Bjork writes an open letter to fans every month, keeping them up to date on Aggieland events. Here is his letter from July.
****************
Hi!
I hope you have a good start to summer and, if you haven't already, that you will have time to recharge your batteries before the start of the new academic and sports year in August. This summer has already been busy at Aggieland as our 2021-22 Athletics season only ended last week.
I want to start by congratulating Coach Schlossnagle and our entire baseball team and staff for a phenomenal run at the Men's College World Series! It was one of the best seasons in program history as the Aggies finished with a 44-20 record and a trip to the College World Series semifinals, the most we've ever advanced and the first time that we won several games in Omaha. . Coach Schlossnagle has quickly established himself as an Aggie and has shown his leadership and ability to win at the highest level, and I can't wait to see the lasting impact he will have on this program.
June 23, 2022 marked the 50th anniversary of Title IX, the legislation that established equity in athletics across the higher education landscape and increased access to women's athletics at the national and college levels. Over the next year, we will honor and celebrate this milestone, highlighting the success and impact of this legislation on women's athletics. You'll see it through a "Title IX game" for each program, a social media campaign telling the stories of the pioneers and legends of women's athletics at Texas A&M, and a host of collectibles and activities. that honor the legacy of Title IX. For more information on Texas A&M's Title IX Celebration, visit 12thMan.com/titleix.
This past year has been filled with many memories, highlights and accomplishments. Our mission is to create opportunity through athletic championships and I can't thank the staff members enough who have dedicated their careers to helping our student-athletes do just that. Check out some of the highlights from this year below and we'll see you in August!
Thanks for your support and Gig 'em,
Ross
Review of the year 2021-22
Texas A&M Athletics and the 12th Man Foundation launched the Centenary Campaigna new era of excellence.

Adapted to the changing landscape of college athletics, it included state NIL law, transfer rules, and SEC expansion.

Student-athletes continued to maintain a 3.0+ cumulative GPA across the board, with 361 AD Honor Roll earned.

NCAA APR scores were the second highest on record.

171 freshmen and junior student-athletes attended the inaugural AMPLIFY conference focusing on NIL education, personal branding and financial literacy.

58 student-athletes completed the Brand U professional development program and won a custom business suit.

35 student-athletes have completed the Horizons Emerging Leaders program.

497 volunteer student-athletes completed 1,592 hours of selfless service in 101 different service projects.

SAAC, BLUEprint, 12th Man Green Team, and WE3 have enjoyed continued success leading and influencing student-athletes, athletic department personnel, and the Texas A&M community through educational workshops, meetings, social events and service opportunities.

Peter Simmons of the men's swimming and diving team and Macie Kolb of the soccer team were nominated for the H. Boyd McWhorter Scholar-Athlete Graduate Scholarshipthe top male and female varsity athletes in the league.

Karlina Sample, president and co-founder of BLUEprint, was recognized as Woman of the Year at the Black Student-Athlete Summit.
Sports recap 2021-22
Soccer
Volleyball
Cross country
Athletics
Soccer
men's basketball
women's basketball
Swimming and diving men
Women's swimming and diving
Men's Tennis
women's tennis
Baseball
Soft ball
Equestrian
male golf
female golf