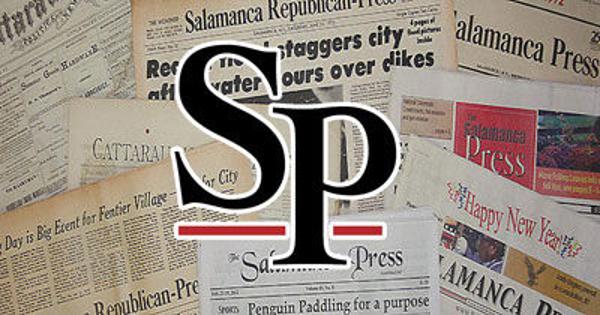 The Salamanca swimmers take second place in the CCAA division. I meet | Sports
The Salamanca University Women's Swim and Dive Team won two individual CCAA divisions. 2 champions over the weekend as Camryn Quigley won the 100-yard freestyle and Rileigh Hutchison won the 1-meter dive.
Salamanca finished second in the tag team competition behind Panama / Maple Grove.
Quigley, a sophomore, swam the 100 freestyle in 1:06. She was also second in the 50 freestyle (: 28.18).
"(Quigley) has more to give and we look forward to the Class C Championships to place her in the top 10 of all time for our team," said Salamanca coach Laurie Lafferty-John. "Rileigh is a seventh grade student who has just started diving. She has really become determined and we have been pleasantly pleased with her progress and that of Gabbi Bly this season. It was a great honor for both girls.
Rookie Mikaela Tennity won two second places in the 100 breaststroke and 500 freestyle, both for personal bests.
"(She) tends to hold back until the last 25 of each race and we get her to trust herself, knowing that she can be more aggressive at the start of the race and is destined for big things," said said Lafferty-John.
Seventh-year student Addison Follman, a rookie to the team, was third in the 100 freestyle (1: 10.76), a personal best of over nine seconds. Eighth year Makenzie Crouse was third in the 50 freestyle and 100 backstroke. Charlie Ross was fourth in the 200 IM and 100 butterfly.
"These girls are the future and the core of this team," said Lafferty-John.
Kortney DeBoy swam for two sixth places in the 200 freestyle and 100 butterfly. Ella Erlandson was sixth in the 500 freestyle and seventh in the 200 IM.
Senior Jem Yarbour, who injured his ankle, still managed to secure a fifth place in the 50 freestyle and eighth in the 100 freestyle. Leilene McComber was fifth in the 100 freestyle and seventh in the 100 backstroke.
The three relay teams from Salamanca took second place: Follman, Crouse, Erlandson and McComber in the 200 QN relay; Yarbour, Ross, Quigley and Tennity in the 200 and 400 free relays.
The Salamanca girls will take part in the Section 6 Class C meet on Wednesday (preliminaries) and Friday (finals) at Olean.