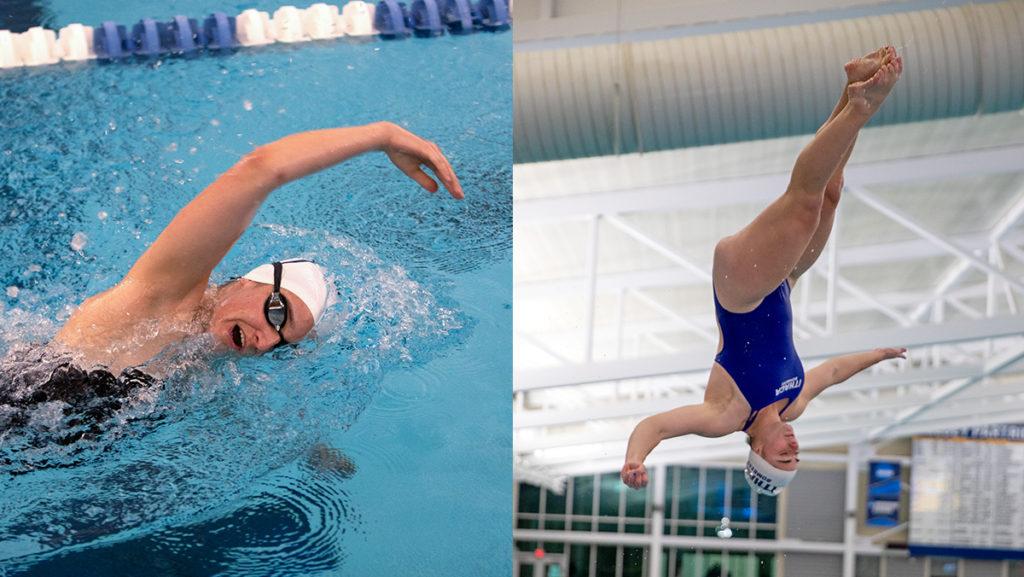 The women's swimming and diving team embarks on the season with high expectations
As the freezing cold of winter approaches, Ithaca College's women's swimming and diving team returns with big ambitions for the upcoming season as sports move indoors.
Last season, the Bombers finished first in the Liberty League championship, completing a hat-trick by successfully winning their third straight Liberty League trophy. The Bombers are poised to build on their recent success and looks like to secure their fourth consecutive title in the new season.
As the new season approaches, certified diver Abby Marraccino said she has high expectations for herself and her teammates in the pool.
Marraccino put in strong performances in his 2021-22 campaign, finishing fifth in the Liberty League in 1 meter diving with a score of 432.25 and fourth in 3 meter diving with a score of 475.90. Those two scores, achieved in the conference championship game, were his best performances of the season.
"My individual goals as a senior are to have a positive attitude in every training session and to enjoy all the time I have with the team," Marraccino said. "Some other goals are definitely to get some new dives and hopefully get back to nationals."
Senior swimmer Emily Shorb said the team has been preparing all summer for this season and has been working on welcoming new freshmen to the team, as well as bonding as a group.
"Before our season started on September 26, we were doing captain training for a few weeks," Shorb said. "In the summer we have a summer challenge that we do where we record our workouts on MapMyRun and we form teams, and we can see each other's workouts. … That's how we stayed interactive during the summer and it was a good way to meet the [first-year students] too."
At the 2021–22 Liberty League Championships, Shorb came in 11th place overall in the 500 yard freestyle with a time of 5:15.63. She also earned an eighth-place finish in the 1,650 yard freestyle, where she finished with a time of 18:21.92.
Ahead of the upcoming season, Marraccino said the team got to know each other, making them stronger as a group, having open discussions with each other.
"We really take a step back on Saturdays, instead of training, taking time to talk in a circle about ways to improve our team and work together," Marraccino said. "Even though swimming and diving are both individual sports and team sports, realizing that we are there to push each other."
Along with this, Shorb said the swimming and diving team coaching staff were coaching the athletes after the recent coaching changes, which saw head coach Kevin Markwardt take on the role of head coach of the men's and women's swim teams.
"So we had a transition over the COVID year and kind of united as one team, male and female, where the two male coaches became our coaches," Shorb said. "It was definitely a transition, just because of the number of athletes we have."
According to Shorb, the team's coaches have done a good job, even though they have to split their time between the men's and women's teams. She said coaches have been working to prepare the Bombers for their upcoming season.
"Our coaching staff has been a big part of our season, especially last year," Shorb said. "Training is tough, but it definitely prepared us well. Everyone took really big time leaps last year at the Liberty Leagues; it was really fun to be a part of it.
Associate head coach Mike Blakely-Armitage said he's excited to see what the women's team can do this season. With such a successful season last year, he said there are plenty of athletes to watch.
"I would say that one of our captains, [senior swimmer] Emilie Vandersleen, going to be one of our best performers in the sprints and [butter]fly," Blakely-Armitage said. "[Senior swimmer] Jane Pfeufer, who is senior, is going to be one of our best sprinters. First year [student swimmer] Sonia Mlakar is a very good rookie coming. She should be able to compete in national championships based on her best times. … Then I would add for the divers that [seniors] Karalyn Pawcio, Rachel Lange [and] Abby Marraccino will also be the most successful there. These are returns of nationals.
Markwardt said he's interested to see how this season will look compared to previous ones as the Bombers head into it again as defending Liberty League champions. But he said the talent on his roster makes him optimistic about the results.
"The standards are pretty high," Markwardt said. "…We have to realize that we have a target behind us. We have to get up at the right time to have the success that we have had in the past.
Markwardt added that just because the team arrives as title defenders doesn't mean they plan to continue all season – there's always room for improvement.
"It's not like we don't want to improve, because we want to improve," Markwardt said. "We mainly want to maintain the success that we have had in the area of ​​​​double meets and conference meetings. … It's one thing to be on top, it's another to stay on top.
As for which opponent he thinks will provide the biggest challenge, Markwardt said there are familiar rivals ready to fight for the crown.
"Good, [the Rensselaer Polytechnic Institute] and [the Rochester Institute of Technology (RIT)] are for sure [difficult opponents], and that's in the fall," Markwardt said. "There are teams [Bomber Invitational on Dec. 2–4] As [the University of Rochester], which will be a good challenge for our women. … Then we also had Hamilton [College], who really mounted and built. We can see them at the invite, they are not on our double meet schedule.
The Bombers started their season Oct. 15, but will travel to Le Moyne College for their next meeting at 5 p.m. on Nov. 11. They return home at 1 p.m. on November 19 for a meeting against RIT.