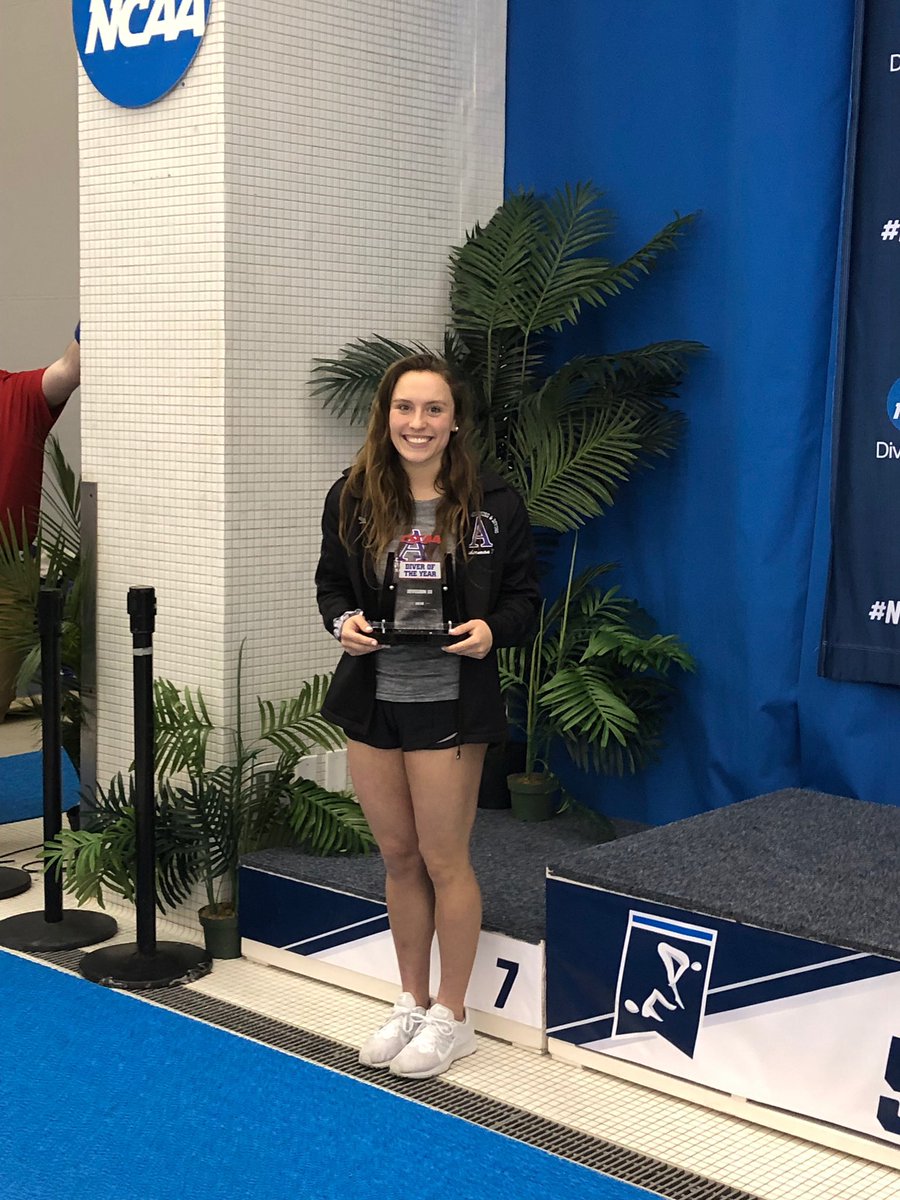 Three swimmers or divers among the 30 winners of the NCAA Woman of the Year
[ad_1]
Three swimmers or divers were among the top 30 semi-finalists of the 2021 NCAA Woman of the Year nominees.
Mikayla bisignani from Johns Hopkins University and Lindsey Ruderman from Amherst College aconcerning the candidates of section III while Abigail Knapton from the University of Nebraska, Lincoln represents Division I.
They were among 9 swimmers and divers who were nominated for the award in August.
2021 NCAA qualifier Bisignani was named 2021 CoSIDA At-Large College Star of the Year for her success in the classroom and in the pool. She also competed in the National Track and Field and Competitive Championships in 2019.
Ruderman was a dominant force on the diving board after qualifying for the NCAA Regional Diving Championships and won 1 meter in 2020 to secure his place at the NCAA DIII Championships that year. She won the 1m and 3m at the 2019 NCAA DIIIs, earning her the NCAA Diver of the Meet award.
Knapton, 6-time All-American diver, who uses it 5th year of eligibility at Rutgers, finished 8th on platform and 3-meter springboard at the 2020 NCAA Championships.
This award "recognizes graduate female athletes who have exhausted their NCAA eligibility and have distinguished themselves in education, athletics, service and leadership throughout their college career," according to the NCAA.
The top 30 semi-finalists consist of 10 athletes from each NCAA division. They were selected from a pool of 535 school applicants who were narrowed down to 30 by a committee of NCAA member representatives.
Then the NCAA will determine the top 3 winners from each division. The 2021 NCAA Woman of the Year will be chosen from the group of 9 finalists and announced on November 9.
The 2020 NCAA Woman of the Year was Kentucky Asia Seidt, the 13th swimmer in history to win the award since its inauguration in 1991.
The winners by sport
Athletics, cross country – 12
Volleyball – 3
Basketball – 3
Swimming & Diving – 3
Field Hockey – 2
Softball – 2
Football – 2
Lacrosse – 2
Fencing – 1
Triathlon – 1
Note: As one athlete, Mikayla Bisignani, has played more than one sport, the total is over 30.
Aquatic semi-finalists
| | | | | |
| --- | --- | --- | --- | --- |
| Candidate | School | Division | Conference | Sports |
| Mikayla bisignani | Johns Hopkins University | III | Independent | Swimming and diving, outdoor athletics |
| Abigail Knapton | University of Nebraska, Lincoln | I | Big Ten | Swimming and diving |
| Lindsey Ruderman | Amherst College | III | New England Small College Athletic Conference | Swimming and diving |
The 30 semi-finalists
| | | | | |
| --- | --- | --- | --- | --- |
| Candidate | School | Division | Conference | Sports |
| Bria beale | University of Hawaii at Hilo | II | West pacific | Volleyball |
| Mikayla bisignani | Johns Hopkins University | III | Independent | Swimming and diving, outdoor athletics |
| Kailyn brandt | Wahington College (Maryland) | III | Centenary | Field hockey |
| Anna cockrell | USC | I | Pac-12 | Indoor athletics, outdoor athletics |
| Kendall cornick | Augustana University (South Dakota) | II | Interuniversity College of the North Sun | soft ball |
| Chelsie De Ponte | Stony Brook University | I | East america | Soccer |
| Stefanie Deschner | University of Notre-Dame | I | Atlantic coast | Fencing |
| Favor Ezewuzie | Wheaton College (Illinois) | III | Illinois and Wisconsin University Conference | Indoor athletics, outdoor athletics |
| Emma Griffith | University of Chicago | III | University sports association | Volleyball |
| Shelby gunnell | North Dakota State | I | The Summit League | Indoor athletics, outdoor athletics |
| Carley Hale | University of South Arkansas | II | Great american | Cross-country skiing, outdoor athletics |
| Naomi hill | Central North College | III | Independent | Triathlon |
| Julia ingram | University of Tampa | II | The state of the shining sun | Basketball |
| Alison johnson | Adelphi University | II | North-East-10 | The Crosse |
| Eka José | Washington University at St. Louis | III | University sports association | Indoor athletics, outdoor athletics |
| Valda Kabia | West Texas A&M | II | lonely star | Indoor athletics, outdoor athletics |
| Abigail Knapton | University of Nebraska, Lincoln | I | Big Ten | Swimming and diving |
| Kaelyn long | Bucknell University | I | Patriot | Field hockey |
| Jessica lopez | Haverford College | III | Centenary | indoor athletics, outdoor athletics |
| Taylor malasek | University of North Georgia | II | Fishing Belt | Soccer |
| Bria matthews | Georgia Institute of Technology | I | Atlantic coast | indoor athletics, outdoor athletics |
| Mekayla Montgomery | Hobart and William Smith Colleges | III | Freedom | The Crosse |
| Nazirah Purnell | Lincoln University (Pennsylvania) | II | Central Intercollegiate Athletics Association | Cross-country, indoor track and field, outdoor track and field |
| Lindsey Ruderman | Amherst College | III | New England Small College Athletic Conference | Swimming and diving |
| Avery skinner | University of Kentucky | I | South East | Volleyball |
| Jenna taylor | Simpson College | III | American rivers | Basketball |
| Sami williams | Iowa State University | I | Large 12 | soft ball |
| Ashton Wood | Southern Methodist University | I | American athletic | indoor athletics, outdoor athletics |
| Jami wright | South Wesleyan University | II | Carolines Conference | indoor athletics, outdoor athletics |
| Irisa Ye | University of Sciences | II | College of the Central Atlantic | Basketball |
[ad_2]