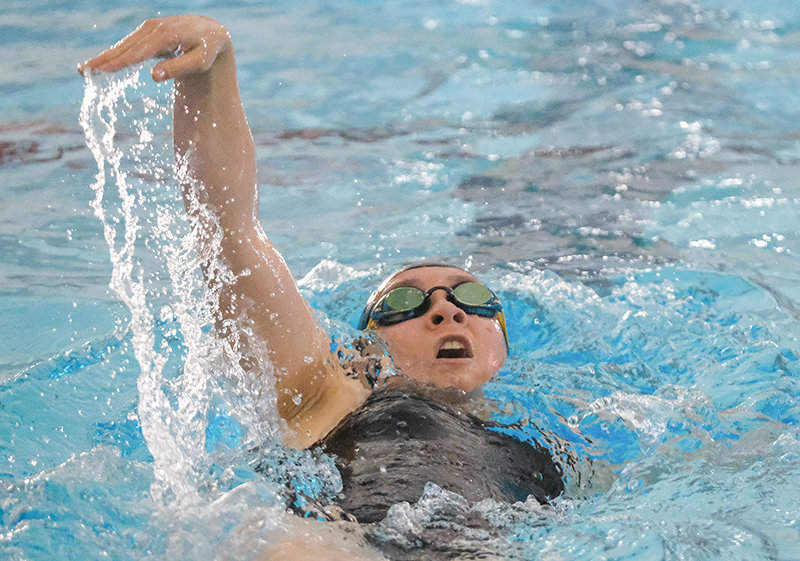 Undefeated! Swimming and diving team ends regular season 12-0
Senior night in front of the home crowd gave Powell High School's women's swim team a boost — helping the Panthers finish before visiting Cody and Buffalo on Thursday to end the regular season undefeated.
Overall, Powell was punctuated with six individual wins, each coming from a different Panther.
Gabby Paterson won the 200 freestyle (2:08.77); Emma Mitchell won the 50 freestyle (26.23); Kik Hayano won the 100 butterfly (1:06.21); Kaitlin Diver won the 500 freestyle (5:53.42); Patricia Christensen won the 100 backstroke (1:07.65) and Aubree Fisher won the 100 breaststroke (1:18.65).
All four swimmers in the 500 freestyle finished the day with a personal best, which coach Bob Smartt attributed to how well they finished training.
"Our distance swimmers have a culture of hard work in their aerobic distance sets at the end of practice," Smartt said.
In addition to the six individual wins, the Panthers have won two of the three stints.
The team of Grace Sapp, Mitchell, Paige Thomas and Hayano won the 200 IM (1:59.74) and the team of Sapp, Paterson, Hayano and Mitchell won the 200 freestyle relay (1:47.95).
Powell helped set himself apart from the competition by placing all four divers in the top five.
"Our divers provided a 46-27 advantage over Cody's divers finishing 2-3-4-5," Smartt said.
Overall, the Panthers finished with 26 personal bests.
MEETING CONFERENCE
id='h4'>
After this last meeting at home, the Panthers hit the road for the rest of the season.
It starts in Buffalo this Friday and Saturday, competing in the 3A North Conference Championship. Start times had not been determined at press time.
Powell is expected to face Cody to defend his throne after winning the conference title last year in Worland.
The other teams present will be Worland, Buffalo, Douglas, Newcastle and Riverton.
Team scores: 1. Powell 472; 2.Code 337; 3. Buffalo 195
* Indicates state qualification mark
200 medley relay: 1. Grace Sapp, Emma Mitchell, Paige Thomas and Kik Hayano 1:59.74; 4. Emma Brence, Aubree Fisher, Cross Tryon and Brooke Brown 2:24.62
200 free: 1. Gabby Paterson 2:08.77*; 3. Patricia Christensen 2:15.88*; 4.Addy Powell 2:16.38*; 7. Emma Sapp 2:34.42*
200 MI: 2. Grace Sapp 2:28.31*; 3. Kik Hayano 2:28.63*; 4. Charlee Brence 2:35.78*; 6. Baylee Brence 2:42.79
50 free: 1. Emma Mitchell 26.23*; 3. Paige Thomas 28.16; 10. Cassidy Reimer 30.85; 13. Brinly Casey 32.86; 16. Brooke Brown 38.61; 17. Leah Sockey 45.81
Dive to 1 meter (six dives): 2.Kami Jensen 204.75*; 3. Tori Black 167.50*; 4. Aramonie Brinkerhoff 161.70*; 5. Emma Brence 154.55*
100 fly: 1.Kik Hayano 1:06.21*; 4.Addy Powell 1:10.71*; 5. Tryon Cross 1:12.67*; 7. Baylee Brence 1:18.31
100 free: 2. Emma Mitchell 57.41*; 3. Gaby Paterson 59.77*; 8. Aubree Fisher 1:08.50; 10. Cassidy Reimer 1:10.36
500 free: 1. Kaitlin Diver 5:53.42*; 2.Charlee Brence 6:06.39*; 4. Paige Thomas 6:18.70*; 7. Emma Sapp 7:01.31
200 free relays: 1. Grace Sapp, Gabby Paterson, Kik Hayano and Emma Mitchell 1:47.95; 5. Addy Powell, Baylee Brence, Cassidy Reimer and Emma Sapp 2:02.06
100 return: 1. Patricia Christensen 1:07.65*; 5. Tryon Cross 1:17.43; 8. Emma Brence 1:30.19; 9. Brooke Brown 1:31.66; 10. Leah Sockey 1:49.20
100 chest: 1.Aubree Fisher 1:18.65*; 2. Grace Sapp 1:19.23*; 3. Brinly Casey 1:22.21; 4. Diver Kaitlin 1:23.87
400 free relays: 2. Gabby Paterson, Paige Thomas, Addy Powell and Kaitlin Diver 4:12.62; 3. Patricia Christensen, Baylee Brence, Charlee Brence and Cross Tryon 4:31.99; 7. Emma Sapp, Emma Brence, Brooke Brown and Leah Sockey 5:43.62